Ruvati RVG1033RD
Regular price
Sale price
$389.00
Unit price
per
Sale
Sold out
Drain Cover
Add Brushed Stainless Steel Drain Cover
Garbage Disposal Flange
-- Please Select --
Disposal Flange with Basket Strainer in Gunmetal Black
Disposal Flange with Basket Strainer in Gold Brass
Disposal Flange with Basket Strainer in Stainless Steel
Silicone Bottom Rinse Grid
-- Please Select --
Matte Black Silicone Rinse Grid
Matte Gray Silicone Rinse Grid
✔ Free Shipping on Orders Over $200
✔ Free Returns for 100 Days
✔ No Restocking Fees
Got a question?
• Text or call
800-814-9816
• Email
support@kitchenoasis.com
• Start a live chat
Our team is available to serve you
8:00 AM - 11:59 PM
ET, 7 days a week.
Beautiful.Inspired.Exceptional
Granite Sinks

Crafted in Italy, our granite composite sinks add color and character to your kitchen design. Experience a sink that truly reflects your style and personality.
epiGranite
The epiGranite series of kitchen sinks from Ruvati sets a new trend for the home kitchen. If you are looking beyond stainless steel, and want to add some color and character to your kitchen design, the epiGranite sinks are an elegant choice. The sink is constructed from 80% crushed natural granite, giving the sink extreme durability and the look of real stone. The sink is colored all the way through, for a rich and consistent look that will never discolor. The surface of the sink undergoes a proprietary treatment making it resistant to stains, bacteria and extreme temperatures up to 536 degrees Fahrenheit. The sink comes with a basket strainer drain assembly that traps food waste and is easy to empty into the trash. Ruvati epiGranite sink comes in 8 different color options ranging from warm Caribbean Sand to elegant Black Galaxy. Now you can have a kitchen that truly reflects your style and personality.
What's Included

Sink

Matching Black Basket Strainer Drain Assembly

Cutout Template

Mounting Clips

Installation Guide
Not Included
Features
Natural stone finish. Color: Carnelian Red
Constructed of composite granite – 80% crushed natural granite for extreme durability and strength. The remaining 20% is a proprietary resin that makes the sink completely non-porous and resistant to most household chemicals.
The sink is colored all the way through, for a rich and consistent look that will never discolor
Proprietary treatment makes the surface anti-bacterial and completely resistant to stains
Can withstand high temperatures up to 536 degrees Fahrenheit
Drop-in Topmount installation. Cutout templates and mounting clips are provided.
Thick solid construction makes the sink naturally sound-absorbing and noise free
9″ deep bowls gives ample space and fits large pots and pans
Gently rounded corners make it easy to clean
Pre-drilled with 1 standard hole (1-3/8″ diameter) for faucet installation. Also pre-drilled with 4 additional partially-drilled knockout holes that can be used for installation of soap dispenser or 3 or 4-hole faucets.
Includes basket strainer drain assembly that traps food waste and prevents your drain from getting clogged. The basket can be lifted and emptied into the trash. (Note: Basket strainer is only for standard installation. If installing a Garbage Disposal unit, you have to use the drain flange that comes with the disposal).
Standard 3.5″ drain opening will fit any garbage disposal unit.
Exterior Dimensions: 33″ (wide) x 22″ (front-to-back). Standard size will retrofit into most existing topmount sink cutouts.
Interior Dimensions: 29″ (wide) x 16-1/2″ (front-to-back) x 9″ (bowl depth)
MINIMUM BASE CABINET SIZE: 36″
Included in box: Sink, matching black basket strainer drain assembly, Cutout template, Mounting clips, Installation Guide
cUPC certified and tested by IAPMO to meet all US and Canadian plumbing standards
Ruvati Limited Lifetime Warranty
Specifications
 Brand
 Ruvati

 

Model #

 RVG1033RD

 Shape

 Rectangle

 Installation type

 Drop-In

 Style

 Modern

 Item Width   

 33"

 Bowl Depth

 9"

 Item Height

 22"  

 Item Weight

 49.9lbs

 Cabinet Size

 36"

 Color

 Carnelian Red

 Material

 Granite Composite

 Exterior Dimension

 33″ W x 22″ H

 Sink Thickness

 0.5"

 Interior Dimension

 29″ W x 16.5″ H x 9″ D

 Number of Bowls

 1

 Drain Assembly Included

 Yes

 Basket Strainer Included

 Yes

 Mountain Clips Included

 Yes

 Cut-out Template Included

 Yes

 Faucet Included

 No

 Warranty

 Limited Lifetime
Dimension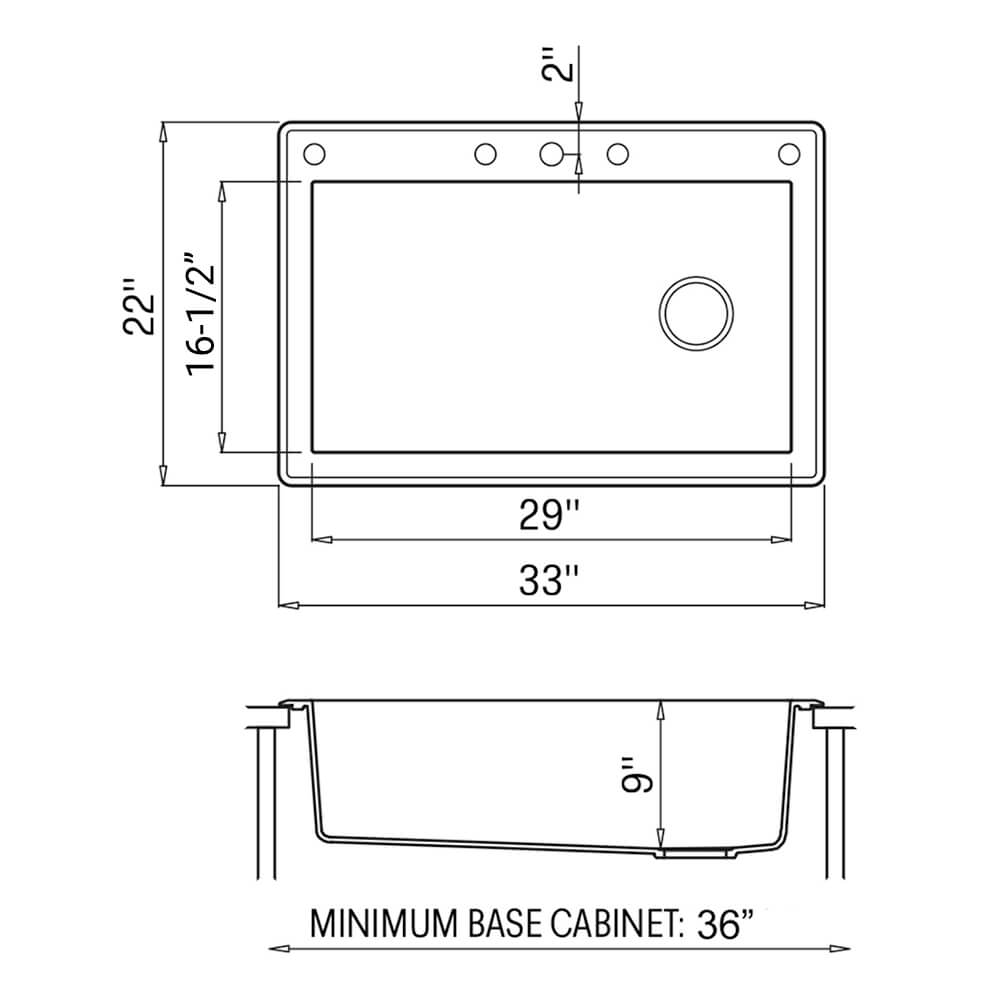 Warranty
Limited Lifetime Warranty
All Ruvati sinks carry a Limited Lifetime Warranty for residential use. Ruvati faucets and accessories are backed by a 1-year limited warranty.
Should a customer experience any defects in materials or workmanship within the warranty period, Ruvati will repair or replace the defective product, subject to the following conditions:
Any claim made under this warranty must include a copy of a valid proof of purchase showing the date and place of purchase

Ruvati's obligation under this warranty is to the original purchaser only and may not be transferred

Product replacement does not include shipping costs or labor installation costs

Under most circumstances Ruvati will cover shipping charges to and from customers within 48 contiguous US states. Ruvati will not cover any shipping charges to customers in Hawaii, Alaska, US Territories, Canada or any other country outside of the US

This warranty applies to residential installations only

Ruvati reserves the right to examine any product in question and its installation prior to replacement

If an identical replacement product is not available, Ruvati reserves the right to replace the defective product with a similar product
NOTE: Accessories such as rinse grids, cutting boards, strainers are not covered by this warranty.
This warranty relates to defects in manufacture, materials, or workmanship in a Ruvati sink or faucet supplied for installation into domestic premises in the United States. It does not extend to :
Damage resulting from failure to maintain the product in accordance with the 

Care and Maintenance

 instructions provided with the product

Normal wear and tear, scratches, or accidental damage

Faults arising from improper use and/or installation

Defects in accessories, strainers, and rinse grids
Downloads
Videos
About Ruvati
Ruvati was established in 2009 when our founders recognized a need in the marketplace for reasonably priced, high-end kitchen and bath fixtures that offer exceptional value without sacrificing quality or performance. With decades of experience in real estate development and home improvement retail, our founders realized that the products in big-box stores primarily serve the needs of spec home builders. However, homeowners who are in the process of building or renovating a custom home are looking for high quality, uniquely designed sinks that are superior to products designed for spec homes. Some showrooms carry high-end products, but most of these options are prohibitively overpriced. Ruvati was established to cater to the needs of custom homeowners and builders by offering affordable products made of quality materials – built with the same care given to higher-priced products.
Headquartered in Austin, Texas, Ruvati is proud to design and manufacture innovative kitchen and bathroom sinks that add elegance and sophistication to any home. Austin is an ideal location for prospering companies such as Ruvati. This fast-growing city offers a burgeoning real estate market with a variety of custom homes lining the streets. The diverse, multi-talented workforce in our area provides a rich range of expertise that allows us to deliver top-tier products to custom homeowners. Our leadership is fully committed to developing the skills and talents of our employees so that we can continue to produce the most desirable kitchen and bath fixtures on the market. With deep roots in Italian tradition, Ruvati is dedicated to creating high-end products that offer exceptional beauty, flawless functionality, and phenomenal quality.
Ruvati Mission

 

Ruvati exceeds expectations for style and performance by crafting a unique selection of quality sinks that evoke the classic beauty and sophisticated elegance of Italian design. Ruvati rigorous creative process allows custom homeowners and builders to choose from a range of distinctive products that are guaranteed to last a lifetime. Each component is handpicked and exhaustively tested to offer the utmost in functionality and reliability. All of Ruvati sinks and faucets are manufactured using the highest gauge steel available to ensure long-lasting durability. This results in a collection of flawless products that are not only stunning to behold, but also built to last for decades.

Many big-name brands focus exclusively on spec builders and designers. Ruvati believe that home design should be a completely personal experience. Everything in your home, including your fixtures, should reflect your individual style choices. That's why Ruvati strive to reach out directly to custom homeowners who are looking for the perfect sink to complement their design aesthetic. Ruvati's team also works with custom builders who fully understand their clients' preferences. Ruvati help builders choose high quality components that meet and exceed the expectations of every homeowner. With a commitment to inspired designs and manufacturing excellence, Ruvati continues to lead the way in product innovation and customer satisfaction in the sink industry.

Design Philosopy

 

Ruvati was formed around il bello e il buono, the beauty and quality of Italian style, which is a principle that is evident in all of our work. Outstanding design is about more than simple appearances. Ruvati design philosophy revolves around making beautifully crafted fixtures that perform to the highest possible standards. Each product is designed with the real needs and preferences of Ruvati customers in mind. Ruvati want custom homeowners to be thrilled with the visual impact of their sink and completely satisfied with the long-term functionality of every product. This commitment to design excellence is a core value of Ruvati's philosophy that continuously drives the future of their success.

Ruvati is dedicated to quality craftsmanship and original ideas that inspire custom homeowners to create an ideal living space that is completely personal. Every fixture is meticulously designed to bring true luxury and sophistication to any home. Ruvati goal is to design and manufacture precisely engineered products that work flawlessly while complementing a variety of interior styles. Crafting sinks that accommodate the fullest range of design preferences allows us to cater to discerning homeowners who only want the very best on the market. Whether you choose a classic or contemporary design, you can be assured that you'll receive a product that represents the perfect mixture of beauty, functionality, and value.
Ruvati and The Environment

 

As an environmentally conscious company, Ruvati is devoted to water conservation. Ruvati team is committed to producing eco-friendly fixtures to help create a better world for all. With every product, we continuously strive to meet and exceed the highest standards in corporate and social responsibility. Ruvati overarching goal is to minimize the ecological impact of Ruvati's products and demonstrate Ruvati's commitment to the environment by implementing sustainable business practices.

Ruvati sinks are manufactured from T-304 grade stainless steel. This material is 100% recyclable with long-term durability, which makes it a great choice for the environment. The average stainless steel product contains 60% recycled materials. Ruvati stainless steel products contain at least 80% recycled steel. The alloying elements of stainless steel include chromium, nickel, and molybdenum. These valuable materials can be recovered during the recycling process without difficulty. Ruvati delivers fixtures that are designed to endure continuous use while still performing beautifully day after day for decades. However, when one of Ruvati's products reaches the end of its useful life, it is easy to recycle.

Ruvati strive to continuously reduce the environmental impact of Ruvati's products. Ruvati constantly search for new materials and processes that will allow us to be even more proactive in preserving our world. Ruvati concern for the environment doesn't have an endpoint. As a company, Ruvati will continue to push themselves to create products that will help homeowners live in harmony with their surroundings.

Partnerships

 

Ruvati has earned an A+ rating from the Better Business Bureau. This rating is a reflection of Ruvati's enduring commitment to excellent customer service and preeminent business practices. With every interaction, Ruvati conducts business in the most ethical manner possible. As Ruvati believe that Ruvati's impeccable reputation is one of Ruvati's most valuable assets, Ruvati will continue to faithfully serve the best interests of our customers.

As a member of the National Kitchen and Bath Association, Ruvati is dedicated to becoming a primary force in environmentally friendly design. Ruvati's eco-friendly products and practices help homeowners create efficient spaces for a better world. Ruvati will continue to lead the way in the kitchen and bath industry by delivering products that meet the highest quality, safety, and environmental standards.

Ruvati is also part of the Greater Austin Asian-American Chamber of Commerce. As a company, Ruvati believe that diversity strengthens the business community and promotes economic growth and development in Ruvati area. By building a culture of inclusion, innovation, and engagement, Ruvati will continue to produce the most exceptional kitchen sinks and faucets on the market today.

Superior Craftmanship

 

As part of Ruvati's commitment to delivering outstanding products, Ruvati invest in advanced manufacturing technologies to guarantee that every fixture meets rigorous quality control standards. Ruvati optimized manufacturing process gives us total control of every step. It all starts with the highest quality components and raw materials. Ruvati use T-304 stainless steel, an alloy with 18% chromium and 10% nickel, for maximum service life. When it comes to our products, Ruvati only choose the finest components available.
Quality and Service

 

Ruvati know that Ruvati customers have high expectations when it comes to the beauty and functionality of their fixtures. Ruvati uses state-of-the-art machinery to produce products that are superior in craftsmanship and performance. Every Ruvati product is carefully packaged to assure that it is delivered to customers in pristine condition. Ruvati also partner with fulfillment centers across the country to minimize shipping and transit time. Each step in the process is carefully calculated to ensure absolute perfection. Ruvati continuous commitment to excellence has resulted in products that are known for lasting beauty and unparalleled performance.
Certifications

 

NSF Certified

NSF certified products follow strict guidelines in public health protection set forth by the National Sanitation Foundation. These guidelines guarantee that Ruvati products are safe for drinking water contact from source to tap.

Lead Free Compliant

All Ruvati products comply with the new federal "lead-free" requirement of the 2014 Reduction of Lead in Drinking Water Act, as well as state legislations in California (AB-1953) and Vermont (S-152).

UPC Certified

Ruvati Faucets are certified and listed by UPC and CUPC to meet Industry Codes and Standards for USA & Canada.

ADA Compliant

Many Ruvati products are compliant with The Americans with Disability Act.



Frequently Asked Questions
Benefits of a Slope Bottom Sink?

 





After hearing countless complaints around the industry regarding difficult drainage, Ruvati has revolutionized the kitchen sink with the addition of our slope bottom sink design. From our widely-popular dual-tier workstation sinks to our elegant granite composite collection, any product featuring the Ruvati slope bottom is unmatched in design and function.

Gone are the days of forcing water or food particles towards your garbage disposal or having to clean your sink after cleaning your dishes. Our slope bottom sinks have a 2.5% (1-inch) slant that allows for water to flow directly towards the drain. Not only does this leave less cleanup for you, it will leave your sink dry after use. Make your kitchen work for you when you purchase a slope bottom sink from Ruvati.

Offset Drain

In addition to the slope bottom, these Ruvati sinks will also feature an offset drain. Offset drain kitchen sinks from Ruvati offer an innovative solution for perfect drainage and optimal space. Since the drain is located on one side of the sink, there is more efficient storage both inside and under the sink. You will now have more cabinet space for large household items — like a garbage can or various cleaning supplies. Depending on the installation, sinks with an offset drain are also reversible so you can install it with the drain on the left or right side. 
How to Clean and Care for Your Granite Composite Sink?

 

For standard cleaning, we recommend using any non-abrasive cleaner, such as Bar Keeper's Friend, Soft Scrub/Soft Scrub with Bleach, or standard liquid dish soap. To eliminate any water spots or soap film buildups, rinse and wipe the sink dry with a clean, soft cloth.


Removing Stains and Scuff Marks:

Bar Keepers Friend should remove most stubborn stains with multiple cleanings. If you continue to have trouble, use a mild abrasive cleanser, along with a soft scouring pad. For more stubborn stains, a solution of 50% bleach, 50% water can be used, but only in these situations. DO NOT USE THIS FOR DAILY CLEANING. Let the solution sit in the bottom of the sink for one hour, then scrub and rinse extremely well, to make sure there is no bleach left in the sink. Dark colored sinks must be rinsed thoroughly with hot water. To remove calcium deposits, use Lime-A-Way or CLR cleaner.


Use any abrasive cleaning agents or scrub pads, such as Steel Wool

Use commercial alkalis, such as ammonia and/or caustic solutions

Use drain-blocking chemicals that involve filling the sink with water

Use the sink to clean paint or grout materials
Share
View full details