Ruvati RVH8309
Regular price
Sale price
$747.50
Unit price
per
Sale
Sold out
✔ Free Shipping on Orders Over $200
✔ Same-Day Order Processing
Got a question?
• Text or call
800-814-9816
• Email
support@kitchenoasis.com
• Start a live chat
Our team is available to serve you
8:00 AM - 11:59 PM
ET, 7 days a week.
Stainless Steel Sinks

Stainless steel is one of the most popular materials for kitchen sinks. At Ruvati, we pride ourselves at providing the highest quality, most durable options.
Roma
This WORKstation wet bar / prep sink from Ruvati's Roma series maximizes the functionality of your wet bar or prep sink. It features an integrated cutting board that covers the entire bowl converting your sink into a countertop when you need. It also acts as a cover, hiding the sink when not in use. The solid cutting board is constructed of African Mahogany (Sapele) wood – a luxurious hardwood that has a beautiful finish and handles water well.
What's Included

Sink
Wood Cutting Board
Stainless Steel Bottom Rinse Grid
Basket Strainer Drain Assembly
Decorative Drain Cover
Cut-out Template
Mounting Brackets
Not Included
Features
Workstation sink: Ledges on the front and back provide a track for the included cutting board
16 GAUGE Premium T-304 Grade Stainless Steel (18/10 Chromium/Nickel) will never rust or stain
Commercial grade Brushed Finish – Easy to clean and long-lasting. Unlike satin finish, our brushed-finish hides scratches and matches well with your kitchen appliances.
Heavy duty SOUND PROOF COATING and THICK RUBBER PADDING – minimizes noise and reduces condensation.
Zero Radius – sharp inside corners accentuate the modern look
Standard 3.5″ drain opening will fit any garbage disposal unit.
Includes solid Sapele Wood cutting board that covers the entire sink converting your sink into countertop
Includes Decorative Drain Cover that sits on top of the drain. Hides the strainer underneath while allowing waste and water to flow through freely. Also fits on top of garbage disposal flange.
Includes stainless steel bottom rinse grid that protect the sink from scratches and acts as a drying rack
Ruvati USA Limited Lifetime Warranty
Specifications
 Brand
 Ruvati

 

Model #

 RVH8309

 Shape

 Rectangle

 Installation type

 Undermount

 Style

 Modern

 Item Width   

 28"

 Bowl Depth

 10"

 Item Height

 19"  

 Item Weight

 48lbs

 Cabinet Size

 30"

 Color

 Stainless Steel

 Material

 Stainless Steel

 Exterior Dimension

 28″ W x 19″ H

 Interior Dimension

 26.5" W x 16″ H

 Number of Bowls

 1

 Warranty

 Limited Lifetime
Dimensions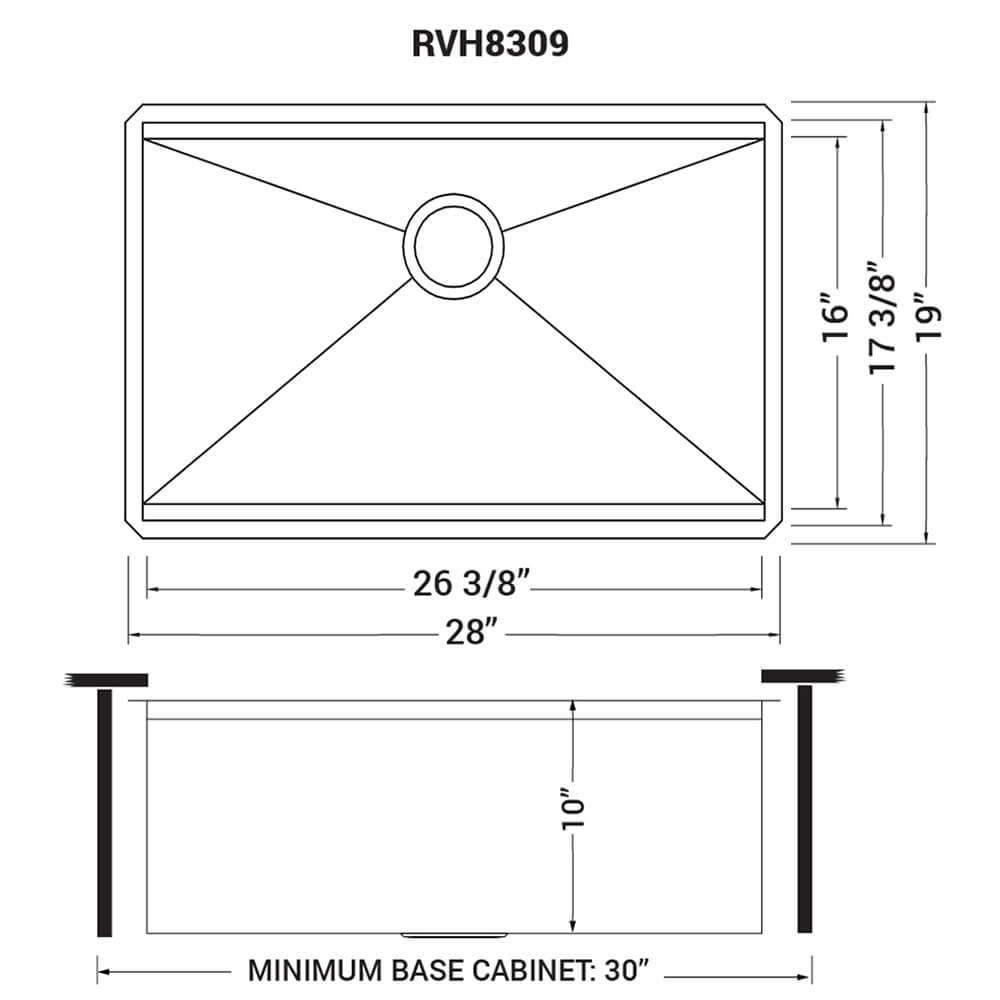 Warranty
Limited Lifetime Warranty
All Ruvati sinks carry a Limited Lifetime Warranty for residential use. Ruvati faucets and accessories are backed by a 1-year limited warranty.
Should a customer experience any defects in materials or workmanship within the warranty period, Ruvati will repair or replace the defective product, subject to the following conditions:
Any claim made under this warranty must include a copy of a valid proof of purchase showing the date and place of purchase

Ruvati's obligation under this warranty is to the original purchaser only and may not be transferred

Product replacement does not include shipping costs or labor installation costs

Under most circumstances Ruvati will cover shipping charges to and from customers within 48 contiguous US states. Ruvati will not cover any shipping charges to customers in Hawaii, Alaska, US Territories, Canada or any other country outside of the US

This warranty applies to residential installations only

Ruvati reserves the right to examine any product in question and its installation prior to replacement

If an identical replacement product is not available, Ruvati reserves the right to replace the defective product with a similar product
NOTE: Accessories such as rinse grids, cutting boards, strainers are not covered by this warranty.
This warranty relates to defects in manufacture, materials, or workmanship in a Ruvati sink or faucet supplied for installation into domestic premises in the United States. It does not extend to :
Damage resulting from failure to maintain the product in accordance with the 

Care and Maintenance

 instructions provided with the product

Normal wear and tear, scratches, or accidental damage

Faults arising from improper use and/or installation

Defects in accessories, strainers, and rinse grids
Downloads
Videos
Frequently Asked Questions
How to Clean and Care for your Stainless Steel Sinks?

 





Just because your sink sees a lot of soap during its use does not mean it's completely clean. In fact, the chloride in most household soaps can actually hurt the surface of your sink over time. A simple way to prevent this is to give your sink a quick rinse after each use.

Food stains, water spots, and soap deposits can build up quickly unless you stay proactive in regularly scrubbing your sink. Scrubbing your sink with a soft cloth and a non-abrasive chloride-free cleaner like Bar Keepers Friend – Stainless Steel Cleanser can extend the life of your sink by getting rid of harmful chemicals and acids buildup on the surface of your sink.

When scrubbing your sink, make sure not to use steel wool, a wire brush, or any type of abrasive sponge. Also, be sure to apply cleaner and wipe it in the direction of the polish marks of the sink. Do this about once a week if you use your kitchen sink on a daily basis.

Polish you Ruvati Sink

If you want to give your sink a little extra shine use a stainless steel polish like Bar Keepers Friend Polish.

Home remedies like olive oil, club soda, or baby oil can also provide an even brighter look. If using club soda, place the stopper in your sink drain and then rub the sink down with a soft cloth soaked in club soda. Be sure to dry the sink afterward with a dry cloth to prevent water spots.

If you are using baby oil, place a few drops on the surface of the sink and wipe off with a soft towel or paper towel.

Things to Avoid:

Do not let acidic foods/liquids like fruit, salad dressing, or vinegar sit on the surface of your sink for an extended period of time. Long-term contact with acidity will cause harm to the surface of your sink.

Don't allow soap or cleaners to dry on the sink. Be sure to rinse regularly to get rid of any harmful chemicals in the soap.

Don't use anything abrasive to wipe the sink such as wool pads, wire brushes, or any other type of abrasive sponge or pad.

Do not use your sink as a cutting board. Sharp objects like knives can damage the sink.

Don't leave steel or iron pots/cookware in the sink for a long period of time as it could lead to staining and rusting of your sink.

Be sure to put any wet sponges or cleaning mats somewhere other than the surface of your sink. These items may also lead to the rusting and staining of your sink's surface.



Cleaning Products for Stainless Steel Sinks?

 

Suggested Cleaning Products for Stainless Steel Sinks

At Ruvati, we pride ourselves on only offering the highest quality, strongest stainless steel. Not only are our stainless steel sinks durable, they are also known for their inability to rust and backed by our Limited Rust-Free Warranty.  Of course, after usual everyday use, it is possible for them to develop small, temporary scratches. Fortunately, these scratches are easy to avoid and easy to remove. For home remedies, we suggest the following products:

Removing Small Scratches with Olive Oil

Applying olive oil can help eliminate small scratches on your stainless steel sink. Start by applying olive oil to a paper towel or soft cloth, rub it on the scratch, and wipe the area dry. You can repeat these steps multiple times to minimize the appearance of any small scratches.

Using a non-abrasive pad, like a 3M Scotch-Brite® blue pad for example, is another method that can be used to buff the surface of the stainless steel sink and minimize the appearance of a scratch. Use the pad to cover the stainless steel surface in long smooth strokes. Be sure you are rubbing in the same direction as the grain. You may then follow up by using a 3M Maroon pad to go over the same area — making sure to rub along the grain here as well.  Be careful not to rub too much with the maroon pad as this could result in dulling the finish of the stainless steel.

Bar Keepers Friend, the well-known cleanser, is designed to remove and minimize the appearance of scratches in stainless steel. Start by applying the product to the scratched area of the sink and rub it in by following the grain with a non-abrasive cloth or a 3M Maroon Pad.
How to Clean and Care for your Wood Cutting Board

 

In our quest to find the perfect wood cutting board for our workstation sinks, we sampled many different hardwoods. Sapele came out as a clear winner. It's a wood that is similar to Mahogany and has a beautiful natural color and grain pattern.

Just like any other hardwood, you still have to take proper care of your workstation cutting board. Do not leave it soaked in water or put it in the dishwasher. Oil it regularly (using food-grade mineral oil or cooking oil) to keep the wood sealed and conditioned, especially after washing with soap. As you use your wood cutting board, it will develop knife marks and scratches. This is normal. We make our workstation sink cutting boards reversible so you can keep one side of the board for regular use and the other side free of scratches. When not in use, you can leave the clean side up. After a few months of use, if you want to remove the knife marks and scratches, you can sand down the entire surface and reseal the wood using food-grade mineral oil. Follow these simple steps to ensure your cutting board stays in perfect condition:

DO's:

After use, wipe off with a damp towel or wash gently with dish soap then rinse well with water

Dry immediately by standing vertically on one edge

Rub both sides with food-grade mineral oil or vegetable oil once a month

 

DONT's:

Don't use bleach or any other harsh cleaning agent

Don't leave wet or soaked in water

Don't leave it sitting on a wet countertop

Don't put in the dishwasher

Don't leave it soaked in water

Don't expose to hot surfaces or direct sunlight
Share
View full details